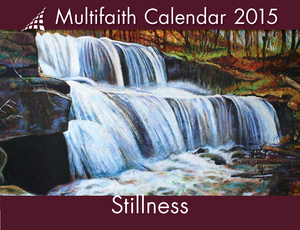 Multifaith Calendar 2015
The 2015 "Stillness" wall calendar explores ways we each experience spirit. It includes information about 14 faith groups and 370 significant religious and cultural occasions.
Excellent education resource for: faith leaders, educators, corporate managers and family home rituals.

Wise people know that what is here, is also there;
that what was, will also be.
They see unity, not division.
-The Upanishads
However many holy words you read, however many you speak, what good will they do you if you do not act upon them?

-Gautama Buddha

It is our intention to provide tools that will guide you in experiencing the beauty in all the world's religions - both with your head and your heart! Some items will be for information while others for inspiration!

Imagine an old wagon wheel with a spoke for each faith. Each spoke is needed to hold the wheel as we turn on this interconnected journey! Join us in celebrating all religions!